---
Peter Liebetrau founds Liebetrau Listservice GmbH. As a pure list manager, we specialise in the marketing of mailing lists. Lars Mühlschlegel is an employee since the very beginning. We take up premises in Leostrasse in Cologne-Ehrenfeld.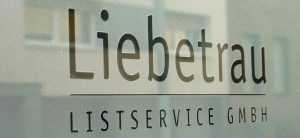 We take on our first apprentice, who is undergoing training as an office clerk.
For the first time, we act as broker for mailing lists and parcel inserts that are not exclusively marketed by us – our debut with list broking.
We coordinate for the first time the compilation of a voucher booklet involving a cooperation between several mail order companies. This voucher booklet, which has been produced virtually every year since then, is distributed through parcel inserts with the participating mail order companies and offers a low-price possibility to win new customers.
Entry into the French market. Over the following months and years, we have gained in-depth knowledge of the specifics of the market and have made numerous direct contacts to list owners, mailers and service providers in France.

ad.cologne GmbH, which offers professional search engine marketing and places its focus on customers from the mail order sector, joins our office sharing arrangement.

In order to meet the growing demands of our customers in France, we create a dedicated position.
Wealth Overlay by Major Giving Solutions enables us to offer German non-profit organisations the possibility of identifying donors with a major financial potential from within their own databases.

For the first time, we broker e-mail addresses for our customers and advise them on how to implement their campaigns. As an unbiased advisor, we have access to the most important e-mail mailing lists which we can book at favourable terms.
Lars Mühlschlegel becomes one of the general managers of Liebetrau Listservice GmbH.
After a few successful years where we placed some address and insert bookings in Great Britain, we now have a client that put his complete budget allocation for Great Britain into our hands.
After 15 years we leave our office in Leostreet and move into modern and bright office rooms at the southside of Cologne.
Since 2005, Liebetrau Listservice has been a member of Deutscher Dialogmarketing Verband e.V. (German Dialogue Marketing Association – DDV) and participates in the DDV's Competence-Center Targetgroup-Marketing. We have been certified with the Quality–Seal Listbroking for exemplary quality and services. Within the DDV, Peter Liebetrau has been working for several years now to develop a practicable approach to data protection.